NEW ESI VIEWER !! (Work In Progress Still)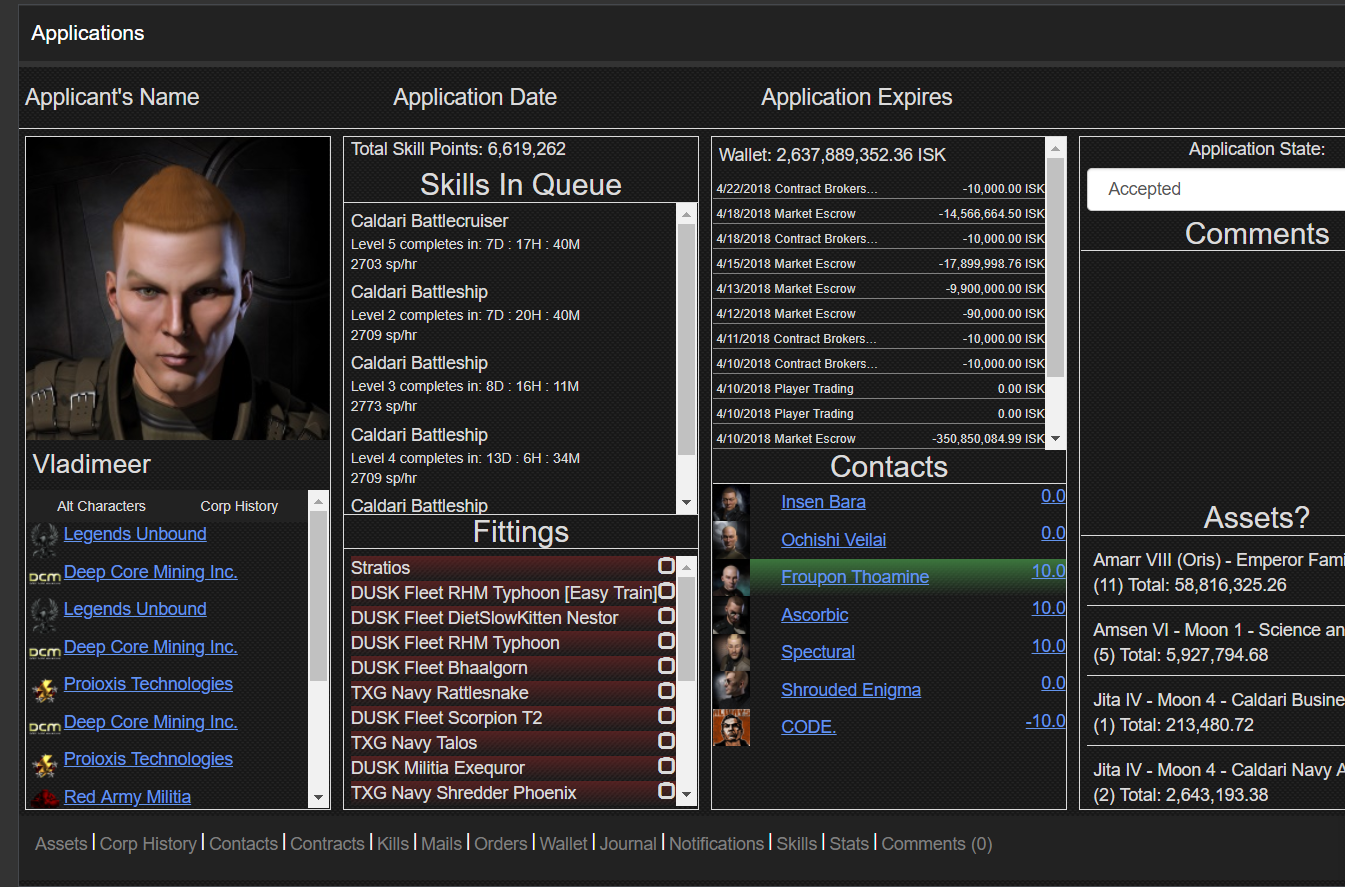 Eve-HR is slowly turning into a tool to help manage your corporation. I have also received a lot of requests for additional functionality and over time they will get added. I am doing this site in my spare time while trying to be a father of a 1 year old and working full time. So don't expect rapid expansion of new features.
Current Features:
Discord Integration
Corp Fitting Assessments (See what members can fly what)
Logistics Order Forms
Custom Price Building Function (Design your own equation for what you want to pay for items based on Jita pricing)
Set Your Refine Percentages For Ores
Allows Members to Sell Anything To Your Corp
Mining Op Tool (Uses Mining Ledger to Manage Final Payouts of Ops) (Currently Bugged)
Corp Loyalty Points (As a member pays tax you can set the value of isk per point)
Corp Loyalty Point Store
Ore Values Per M3 Based On Your Custom Pricing (Refined Mineral Values)
Recruitment Pages
Current Requests Features:
Custom Recruitment Forms (Next)
SRP (TBD)
Refining for Modules (TBD)
Taking Suggestions
and more…
A Few Notes:
When getting started, make sure you set up your pricing and your refine percentages. This can be done by Set Prices and Setup https://gyazo.com/a9514642eea9629c0ae805982d8e2827
If you want to use loyalty points, you need to enable to processes. First, you enable GetBountyPayments Task and you enable PointsTally Task. These will read your corp wallet 1 division for bounty Payments and then Tally Points based on what bounties have been paid as well as a tax on orders submitted via Eve-HR.
UpdateUsersCorp Task will remove players from your corps eve-hr list. (They would be removed on login if they are no longer in corp, this is more useful for when you kick someone and you want your list to update)
Permissions are given to Directors in your corporation. Only Members with Director Role can make changes to the settings of your corps eve-hr.
For Questions Or Comments Please Join https://discord.gg/hBezXsQ
Feel Free To Donate!